Gulin® is the professional key enterprise in mining limestone grinding mill and crushing plant manufacturing, researching and developing. According to the main application area of limestone, we provides high pressure grinding mill, MTM trapezium grinding mill, MTW trapezium grinding mill and ball mill with outlet size ranges from 30 meshes to 400 meshes. Gulin® limestone mill is the ideal choice for limestone industry.
Limestone grinding mill
Limestone grinding mill is the key equipments in limestone powder producing process, producing limestone powders with different sizes to meet the industry requirements.
Ball mill is the used as Limestone powder making machine to grind limestone into fine powder. Ball mill has two ways of grinding: the dry process, and the wet process. It is the key equipment used for grinding crushed stone materials into powder in cement plant.
Raymond mill is also common limestone grinding machine used in limestone powder production line. This machine can be used in Limestone milling plant for powder manufacturing.
Vertical mill is used as limestone pulverize machine in grinding process, and produce limestone powder with 0.0445mm.
Ultrafine grinding mill is the ultra fine ground limestone powder making machine. The final size of powder is 0.047-0.005mm in limestone powder grinding plant. The capacity is 350 kg/h- 6000kg/h. It will lighten pollution and noise by using deduster and muffler, which achieves environmental protection requirement.
Wet FGD Limestone Grinding Systems
Wet FGD Limestone Grinding Systems with an attritor vertical ball mill or a standard horizontal ball mill. The vertical ball mills are available with capacities up to 40 st/hr. This type of mill requires a limestone size of 6mm. The horizontal mill requires a feed sizes of 20mm or smaller. If the limestone feed is 20mm for a vertical mill system, we will provide a size-reduction unit between the feeder and mill input.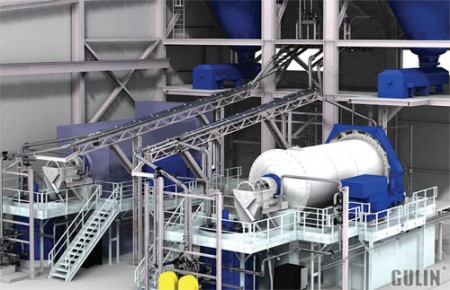 Limestone grinding plant include:
Silo Loading Systems: mechanical or pneumatic
Storage Silos up to 38' diameter with height as required for the specified capacity.  These silos are typically field-welded.
Silo Accessories to include:

Access to Silo Roof
Silo Vent Filter
Pressure and Vacuum Relief Valve
Continuous and Point-Level Monitors

Silo Discharge Bin Activator
Volumetric or Gravimetric Feeder
Optional Hammermill Crusher
Limestone Wetting Funnel
Horizontal or Vertical Ball Mill
Mill Product Tank
Hydrocyclone Feed Pumps
Hydrocyclones
Complete Control System with PLC and HMI soft controls