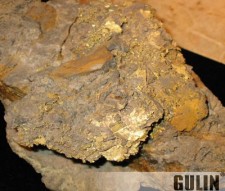 At the Gold ore Processing Plant, gols should be extracted from the ore. The processing plant alternates between treating ore from the mine open pit and from the underground mine. Gulin Machinery is one of world leading suppliers of complete gold ore concentration plant.
Gold ore concentration equipment
In gold concentration, high technology gold mining equipment, such as gold detectors, elegant modern dredges, and lightweight sluices will be needed.
Gold crusher is also used as the primary crusher in gold ore crushing industry. Jaw crusher is the most used gold mining machine for crushing ore. Jaw crusher can reach the crushing ratio of 4-6 and the shape of final product is even.
Gold mobile crusher is the newly type of gold mining machine for gold crushing, and it can eliminate the obstacles of the crushing places and circumstances, and offer the high efficient and low cost project plants for the client.
Gold ore concentration process
Broken process. A broken process is generally used to provide the right from the feed mill, often constitute a system with self-mill.
Crushing process. The mostly small-scale plant using the process.
Sections broken process. The basic form of the process open and three sections of three sections of a closed two.
Work with broken washing process. When the feeding of the mud (-3mm) of more than 5% to 10% and water content greater than 5% to 8%, should increase in the crushing process Gold Ore washing operations.
Commonly Used Machines
| No. | Products | Photo | Info. | Operating |
| --- | --- | --- | --- | --- |
| 1. | (PEW) Jaw Crusher | | PEW series Jaw crusher features big crushing ratio, reliable operation, easy maintenance and low operating cost… | View Details>> |
| 2. | (HPC) Cone Crusher | | Base on the latest technology and decades of years' producing experience, Gulin designed the HPC series cone crusher… | View Details>> |
| 3. | (PFW) Impact Crusher | | Base on the plentiful experience of producing and marketing of impact crusher, Gulin R&D institution designed the PFW series impact crusher… | View Details>> |
| 4. | (CS) Cone Crusher | | Comparing with other kinds of crushers, CS Series spring cone crusher is quite excellent in hard material crushing and the final product has good sharp… | View Details>> |
| 5. | (LM) Vertical Mill | | According to customers' requirements, Gulin success in absorbing foreign experience and world-advanced technology, and in producing our vertical products… | View Details>> |
| 6. | (MTW) Milling Machine | | This MTW series milling machine is designed by our experts, according to collected advices from customers' long-term experiences… | View Details>> |
| 7. | (SCM) Ultrafine Mill | | For almost 30 years, Gulin has being specializing in all facets of grinding mill design and maintenance. SCM series ultrafine mill is specially designed for super fine powder grinding… | View Details>> |
| 8. | (VSI) Crusher | | Gulin VSI Series vertical shaft impact crusher is designed by reputed German expert of Gulin and every index is in world's leading standard… | View Details>> |
| 9. | Mobile Crusher | | Mobile crushers are loaded on their own crawler tracks or towed by truck horse when transported over longer distances to a new location… | View Details>> |