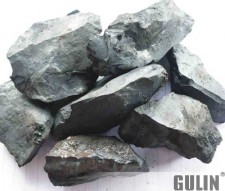 Manganese is essential to iron and steel production by virtue of its sulfur-fixing, deoxidizing, and alloying properties. Steelmaking, including its iron making component, has accounted for most manganese demand, presently in the range of 85% to 90% of the total demand. Among a variety of other uses, manganese is a key component of low-cost stainless steel formulations. Small amounts of manganese improve the workability of steel at high temperatures, because it forms a high melting sulfide and therefore prevents the formation of a liquid iron sulfide at the grain boundaries.
Manganese processing equipment
There is a manganese production line provided by Gulin in Mexico. This production line is the whole manganese process line, which can product 100t manganese per day. Gulin design all the line and supply PE Jaw Crusher for primary crusher and HPC Cone Crusher for secondary crusher. Beside, Gulin Vibrating Feeder and Belt Conveyor is used in the line. Gulin is a professional manufacturer of manganese crushers and manganese grinding mills.
Manganese processing flow
The manganese testing is the first step of mining manganese, in which the manganese ore test machine is necessary.
After manganese tested, manganese mining and processing methods include mechanical separation, which includes ore crushing, washing, screening, gravity separation, high-intensity magnetic seperation and flotation separation, pyrometallurgy enrichment and chemical mineral processing method and so on.
Gulin Machinery can design all process line and supply good quality crusher to crush manganese ore, washing machine to wash manganese ore and vibrating screen to screen .
Commonly Used Machines
| No. | Products | Photo | Info. | Operating |
| --- | --- | --- | --- | --- |
| 1. | (PEW) Jaw Crusher | | PEW series Jaw crusher features big crushing ratio, reliable operation, easy maintenance and low operating cost… | View Details>> |
| 2. | (HPC) Cone Crusher | | Base on the latest technology and decades of years' producing experience, Gulin designed the HPC series cone crusher… | View Details>> |
| 3. | (PFW) Impact Crusher | | Base on the plentiful experience of producing and marketing of impact crusher, Gulin R&D institution designed the PFW series impact crusher… | View Details>> |
| 4. | (CS) Cone Crusher | | Comparing with other kinds of crushers, CS Series spring cone crusher is quite excellent in hard material crushing and the final product has good sharp… | View Details>> |
| 5. | (LM) Vertical Mill | | According to customers' requirements, Gulin success in absorbing foreign experience and world-advanced technology, and in producing our vertical products… | View Details>> |
| 6. | (MTW) Milling Machine | | This MTW series milling machine is designed by our experts, according to collected advices from customers' long-term experiences… | View Details>> |
| 7. | (SCM) Ultrafine Mill | | For almost 30 years, Gulin has being specializing in all facets of grinding mill design and maintenance. SCM series ultrafine mill is specially designed for super fine powder grinding… | View Details>> |
| 8. | (VSI) Crusher | | Gulin VSI Series vertical shaft impact crusher is designed by reputed German expert of Gulin and every index is in world's leading standard… | View Details>> |
| 9. | Mobile Crusher | | Mobile crushers are loaded on their own crawler tracks or towed by truck horse when transported over longer distances to a new location… | View Details>> |