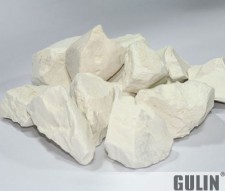 Kaolin is one of the most common minerals. Kaolin powder is used in ceramics, medicine, coated paper, as a food additive, in toothpaste, as a light diffusing material in white incandescent light bulbs, and in cosmetics. It is generally the main component in porcelain.
Kaolin processing equipment
The crushing process can be constructed by Jaw Crusher, Vibrating Feeder, Vibrating Screen, and Belt Conveyor. Jaw Crusher could be changed through Cone Crushers or Impact Crusher, which depends on need towards the size, shape of the gems and design project of kaolin manufacturing line.
Ball Mill for kaolin is the common grinding mill in kaolin production line, it is used for coarse grinding, the finished size is 0.074-0.4 mm. Raymond Mill is the traditonal Grinding mill and porpular around the world. It finish particles have a good uniformity of finess, with passing screen rate as high as 98%. MTM Trapezium grinding mill is used as substitute of raymond mill for grinding Kaolin.
Kaolin processing flow
Wet process concludes mineral preparation, mineral dressing and processing, products processing three stages. Mineral preparation consists of work of burdening, crushing, stirring pulp and so on. During the dressing and processing working process, it mainly consists of hydraulic classification, flotation separation, selective flocculation, magnetic separation, chemical processing (albifaction) working process, this is in order to clear away the different impurities.
In general, dry process is mainly crushing the mined raw ore to around 25mm, then the ore goes into Cone Crusher for further crushing in order to make the size reach to around 6mm. The hot air that was blew into Cone Crusher could make the kaolin moisture from 20% to 10%. The crushed ore will have a further grinding process by Raymond Mill which is equipped with centrifugal separator and cyclone dust extractor.
Commonly Used Machines
| No. | Products | Photo | Info. | Operating |
| --- | --- | --- | --- | --- |
| 1. | (PEW) Jaw Crusher | | PEW series Jaw crusher features big crushing ratio, reliable operation, easy maintenance and low operating cost… | View Details>> |
| 2. | (HPC) Cone Crusher | | Base on the latest technology and decades of years' producing experience, Gulin designed the HPC series cone crusher… | View Details>> |
| 3. | (PFW) Impact Crusher | | Base on the plentiful experience of producing and marketing of impact crusher, Gulin R&D institution designed the PFW series impact crusher… | View Details>> |
| 4. | (CS) Cone Crusher | | Comparing with other kinds of crushers, CS Series spring cone crusher is quite excellent in hard material crushing and the final product has good sharp… | View Details>> |
| 5. | (LM) Vertical Mill | | According to customers' requirements, Gulin success in absorbing foreign experience and world-advanced technology, and in producing our vertical products… | View Details>> |
| 6. | (MTW) Milling Machine | | This MTW series milling machine is designed by our experts, according to collected advices from customers' long-term experiences… | View Details>> |
| 7. | (SCM) Ultrafine Mill | | For almost 30 years, Gulin has being specializing in all facets of grinding mill design and maintenance. SCM series ultrafine mill is specially designed for super fine powder grinding… | View Details>> |
| 8. | (VSI) Crusher | | Gulin VSI Series vertical shaft impact crusher is designed by reputed German expert of Gulin and every index is in world's leading standard… | View Details>> |
| 9. | Mobile Crusher | | Mobile crushers are loaded on their own crawler tracks or towed by truck horse when transported over longer distances to a new location… | View Details>> |