This 350TPH – 400 TPH stone crushing plant is widely used as sand making line, stone crushing plant, ore dressing line, aggregate production line, construction waste recycling plant and so on. For the contractors and final users, Gulin Machinery has designed complete stationary, portable, mobile crushing plants.
PFW series impact crusher is new designed advanced impactor crusher with hydraulic system. Gulin PFW impact crusher features with large crushing capacity, versatile application etc. It is widely used highway construction, water conservancy projects, building rubble and sand processing and so on.
Flow chart of stone crushing plant: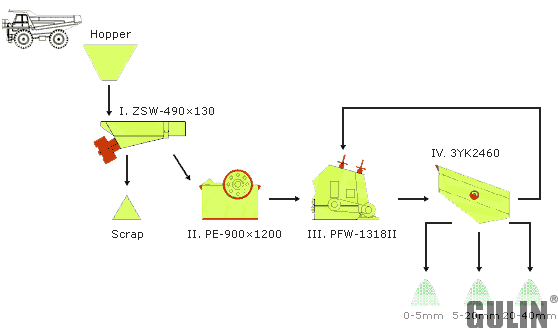 Gulin 350TPH – 400 TPH stone crusher plant includes LC3000X4000 Hopper, ZSW-490×130 Vibrating Feeder, PE-900×1200 Jaw crusher, PFW1318II Impact crusher, and 3YA2460 Vibrating screen. This crusher plant is used for manufacturing 0-5, 5-20, 20-40 mm production by crushing limestone, granite, gravel, rock, iron ores and quartz sand.
Plant crushing stages:
NO.
Equipment
Model
Motor(KW)
Number
Hopper
LC3000X4000
1
I
Vibrating Feeder
ZSW-490×130
22
1
II
Jaw crusher
PE-900×1200
110
1
III
Impact crusher
PFW1318II
200
1
Ⅳ
Vibrating screen
3YA2460
37
1
Total Power (KW)
369