Gulin crushing machine are usually used to crush concrete, glass, porcelain, marble, granite, bricks, blocks, asphalt and reinforced concrete. Recycling concrete &building rubble is not only able to bring profit to investors, but also good for environment protection.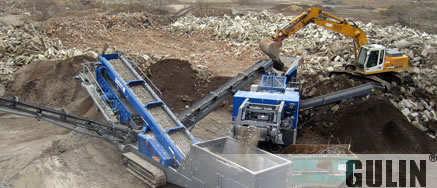 Equipment
Usually construction recycling plants includes following machines: vibrating feeder, jaw crusher+ impact crusher, vibrating screen or portable crushing plant.
| No. | Products | Photo | Info. | Operating |
| --- | --- | --- | --- | --- |
| 1. | (PEW) Jaw Crusher | | PEW series Jaw crusher features big crushing ratio, reliable operation, easy maintenance and low operating cost… | View Details>> |
| 2. | (HPC) Cone Crusher | | Base on the latest technology and decades of years' producing experience, Gulin designed the HPC series cone crusher… | View Details>> |
| 3. | (PFW) Impact Crusher | | Base on the plentiful experience of producing and marketing of impact crusher, Gulin R&D institution designed the PFW series impact crusher… | View Details>> |
| 4. | (CS) Cone Crusher | | Comparing with other kinds of crushers, CS Series spring cone crusher is quite excellent in hard material crushing and the final product has good sharp… | View Details>> |
| 5. | (LM) Vertical Mill | | According to customers' requirements, Gulin success in absorbing foreign experience and world-advanced technology, and in producing our vertical products… | View Details>> |
| 6. | (MTW) Milling Machine | | This MTW series milling machine is designed by our experts, according to collected advices from customers' long-term experiences… | View Details>> |
| 7. | (SCM) Ultrafine Mill | | For almost 30 years, Gulin has being specializing in all facets of grinding mill design and maintenance. SCM series ultrafine mill is specially designed for super fine powder grinding… | View Details>> |
| 8. | (VSI) Crusher | | Gulin VSI Series vertical shaft impact crusher is designed by reputed German expert of Gulin and every index is in world's leading standard… | View Details>> |
| 9. | Mobile Crusher | | Mobile crushers are loaded on their own crawler tracks or towed by truck horse when transported over longer distances to a new location… | View Details>> |
Construction recycle processing flow
Construction wastes are firstly be transported to the crushing plant by trucks or by excavators. Then jaw crusher crush big lumps to small ones.
When the crushed lumps discharged from jaw crusher, the secondary crusher will crush them again until they meet the requirements.
Finally qualified ones and oversize ones are dived into many parts, and oversize ones return to secondary crusher for tertiary crushing.