The stone crushing plant with 600 TPH – 800 TPH capacity consists of jaw crusher, cone crusher, VSI crusher and other auxiliary equipment. The crushing & screening plant is widely used in large mining, quarrying, construction sites to process iron ore, gold, copper, bauxite, limestone, granite, basalt.

Large scale 600 TPH – 800 TPH stone crushing plant manufactured by Gulin Machinery is widely used in many large companies such as Vale, Rio Tinto, BHP Billiton etc.
Flow chart of stone crushing plant: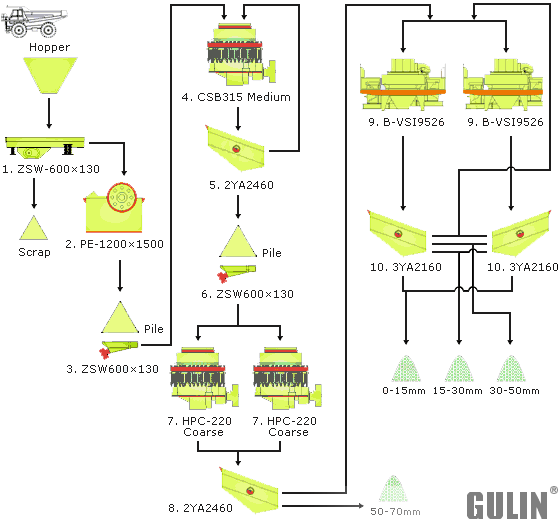 Gulin 600 TPH – 800 TPH stone crusher plant includes ZSW-600×130 Vibrating Feeder, PE-1200×1500 Jaw crusher, CSB315 – Medium and HPC220 – Coarse Cone crusher, 2YA2460 and 3YA2160 Vibrating screen, B-VSI9526 VSI crusher. The max feeding size is 1000mm, and the output size is 0-15 mm, 15-30 mm, 30-50 mm, 50-70 mm.
Plant crushing stages:
NO.
Equipment
Model
Motor(KW)
Number
Hopper
LC3000X4000
1
I
Vibrating Feeder
ZSW-600×130
50
1
II
Jaw crusher
PE-1200×1500
160
1
III
Vibrating Feeder
ZSW-600×130
50
1
Ⅳ
Cone crusher
CSB315 – Medium
315
1
Ⅴ
Vibrating screen
2YA2460
37
1
Ⅵ
Vibrating Feeder
ZSW-600×130
50
1
Ⅶ
Cone crusher
HPC220 – Coarse
220
2
Ⅷ
Vibrating screen
2YA2460
37
1
Ⅸ
VSI crusher
B-VSI9526
264
2
Ⅹ
Vibrating screen
3YA2160
30
1
Total Power (KW)
1697