Gulin® is a professional manufacturer of limestone processing plant in China, and we supply limestone crusher and limestone grinding mill, absorber system designs can be influenced by mill system performance and operating efficiency. Achieving an equivalent grind with less energy can allow power savings that can be banked or re-allocation elsewhere. Achieving finer grinds at acceptable energy usage can allow tailoring of the grind size to assist in optimization efforts in the wet FGD absorber and dewatering system design.
Wet FGD absorber design
Wet FGD absorber design often requires the juggling of absorber tank size with limestone dissolution, Ca/S ratio, and gypsum precipitation design factors. Figure 4 provides an indication of how absorber tank size can be influenced by grind size when holding all other factors constant. Taken in isolation, the effect is significant. However, in reality reductions in reaction tank size must be weighed against corresponding influences on the oxidation system design, absorber recirculation pump design, recirculation rates, gypsum precipitation and crystal growth. Yet, even a slight reduction in tank size will translate into capital cost savings. This is especially true if the vessels are constructed of high alloys and/or enclosed in buildings.
wet FGD system advantages
Many wet FGD system owners have required 100% redundancy for the limestone grinding system. This is typically achieved by doubling of the equipment, such as feeders, crushers (if incorporated in the design), ball mills, mill product tanks and accessories, such as hydrocyclone feed pumps and the hydrocyclone clusters.
Less overall floor space
Less connected power
Less operating power costs
Smaller electrical loads and motor control centers
Smaller foundations
Less process equipment costs
Increased operational flexibility with the capability of bringing mill capacity on line as needed to suit the limestone demand
A total system installation can be designed in less floor area and with much less foundation work due to the significantly lower weights and loads of the attrition mill as compared to the horizontal ball mill.
Limestone grinding processing process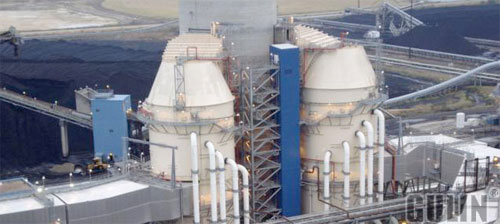 A typical ratio of limestone consumption per unit mass of sulfur dioxide removed is approximately 1.8 grams of limestone per gram of SO2 removed. Using this factor the mill system applied energy in units of kWh per short ton of dry limestone can be corrected to a unit mass of SO2 removed basis, rather than a unit mass of limestone ground basis.
A multiple attrition mill system can be more ideally suited to system designs where the limestone is bulk stored on the ground and reclaimed to individual surge bins upstream of each mill. However, incorporation of larger day silos is certainly possible as it is with the typical horizontal ball mill system.
With increasing fineness of the limestone grind, classifiers within the dewatering system can more easily produce quality gypsum products while maintaining higher calcium to sulfur stoichiometric ratio within the absorber loop. This improves absorber performance and/or allows similar performance with reductions in tank size or liquid to gas ratios.
Attrition mill in the limestone process
due to its inherent design, will more effectively grind a larger percentage of fine particles, compared to the horizontal ball mill. This finer grind will result in a smaller recirculation load when designing hydroclones for the final classification. The recirculation load is defined as the ratio of feed to the hydroclone to the overflow of the hydroclone. A typical recirculation load for an attrition ball mill processing limestone with a bond work index of 10 and a feed particle size of ¼" x 0" is between 140 to 150%. The result is smaller hydroclones than for a typical horizontal ball mill system of similar capacity.