Stone Crushing plant with production capacity from 80-120 TPH is suitable for small scale production line. Gulin Machinery has designed jaw & cone crushing plant, jaw & impactor crushing plant for hard, medium hard minerals. According to the clients' demands, dust catcher, VSI crusher will be equipped.

PF series impact crusher is a kind widely used impactor crushing equipment at present. Gulin Machinery supplies impact crusher of low cost, robust structure, low energy consumption etc. We also can supply PFW series impact crusher with hydraulic system for the clients.
This 80TPH – 120TPH Stone Crusher Plant attributes of substantial degree of automation, high efficiency, low operating cost, high-yielding, uniform finished product size and good grain form. As for optional equipment, we are able to style the production line as outlined by your specific requirements.
Flow chart of stone crushing plant: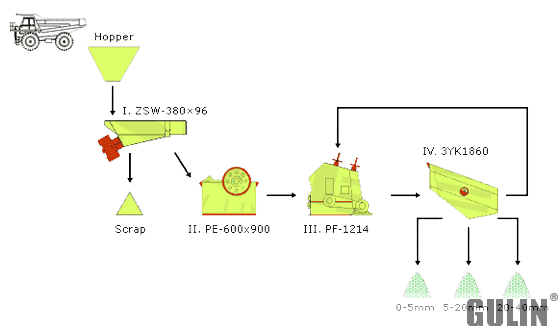 Gulin 80TPH – 120TPH Stone Crusher Plant contains ZSW-380X96 Vibrating Feeder, PE-600X900 Jaw crusher, PF1214 Impact crusher, and 3YA1860 Vibrating screen. Gulin design this stone crusher for small scale crushing plant with best price. It is used for crushing types of stones: granite, silica sand, quartz, marble, iron ores, and construction waste, river stone, pebble into 0-2, 5-20, 20-40 mm particle size.
Plant crushing stages:
NO.
Equipment
Model
Motor(KW)
Number
Hopper
LC3000X4000
1
I
Vibrating Feeder
ZSW-380×96
11
1
II
Jaw crusher
PE-600×900
55
1
III
Impact crusher
PF1214
132
1
Ⅴ
Vibrating screen
3YA1860
22
1
Total Power (KW)
220